genuine Audi pump, thermostat, and INA rollers for the timing components, not the crap GMB ones.
new cam adjuster pads (note this engine had 115k and the lower pad was cracked on bank 1), cam adjuster gaskets, cam seals, valley pan gasket, oil check valves under the valley pan, valve cover gaskets, spark plugs, serpentine belt tensioner, serp belt idler...
the engine looked well take care of, in fact the timing components probably have 5k on them (they appear like new, but I don't like GMB bearings) one of the top rollers was already noisy but the rest were perfect.
The timing belt was over-tensioned though. The 5mm gap on the hydraulic tensioner was close to 1mm.
I triple checked everything, installed my flow matched injectors, replaced any gasket I touched (and ones I didn't as well) replace all coolant hoses.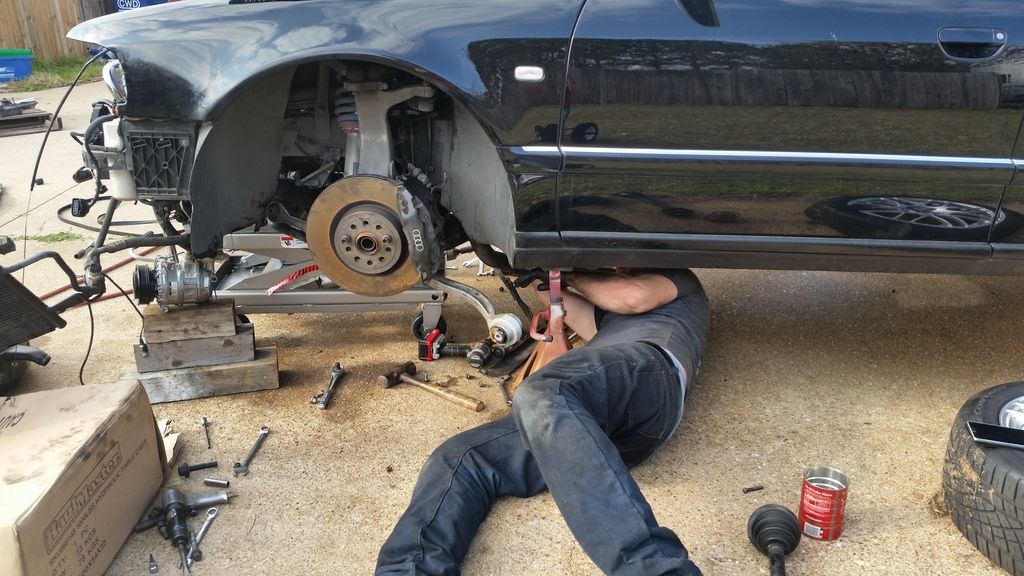 I had to make the two hoses that fed the heater cores unless I wanted to wait 2 weeks from germany.
I went to the local parts store and spent about 20 minutes deciding which hose to buy, I bought 4 and only used 2 with creativity, cutting and 2 3/4" hose splices.
Gates part # 19760 & 19747 were the two i used.
The lift cart in addition to the engine hoist was a blessing.
I had a few bolts that stripped along the way and slowed progress quite a bit.
The moment of truth came to fire it up.
I connected the battery and cranked it a few times with the fuel pump relay removed.
Installed relay...
crank, crank, crank, crank, crank, crank, crank, crack, nothing.....
repeated this 2 more times and decided to have an assistant try..
I felt the injectors while cranking. nothing.
Scan with vcds, engine speed sensor no signal.
No problem, I have new one at my place across town.
Grab it, install it.
Same, no engine speed sensor.
Run back to office print wiring diagrams, grab meter and go to town checking.
Crank sensor has +2.5v with ignition on... so it must be the signal wire. (blue), pull back the connector and tug on the blue wire and it comes out of the connector.. run a jumper wire to test....
It fires up and runs beautifully.
Check timing measuring block 93.. both cams are at 0 correction. perfect!
Assemble and button up, took it for an alignment.
The car drives very nice now.
Vibrations I had previously felt on acceleration are gone.
I am going to be pulling the heads to inspect what is salvageable.
I do have some spare parts if anyone needs a S8 intake, exhaust manifold, injectors, etc..
-Richard